THE GUINGAMP-PAIMPOL BUS: URBAN AREA'S ON DEMAND BUS
, IN SERVICE TO ALL, FOR YEAR-ROUND RESIDENTS OR VISITORS!
YOU CAN NOW MAKE YOUR RESERVATIONS:
• online by following this link
• via the MyMobi application on Android or Apple


If you do not yet have a user account, contact 02 96 68 00 08 (From Monday to Saturday) to create one.
> DOOR-TO-DOOR SERVICE
The mini-bus will pick up passengers at their home address or at a chosen address (located in one of the municipalities of the territory).
The drop-off will be from one of the stops proposed to serve: weekly markets, guingamp paimpol train stations, town centres, shops, civil service.
Nothing could be simpler, to travel all you need to do is to:
+ be in possession of a valid ticket
+ be registered for the service
+ have made a reservation
+ be over 12 years old to travel alone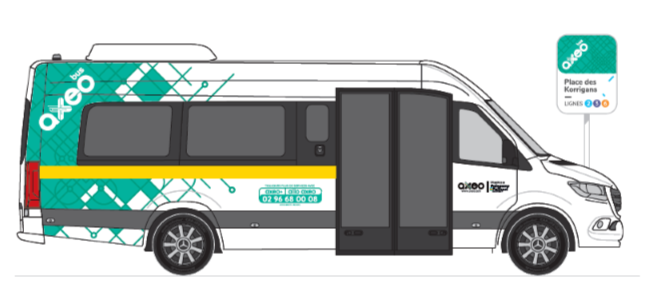 > IT'S VERY SIMPLE TO BOOK
By phone from MONDAY TO SATURDAY (excluding public holidays):
> FARES
▪ 1 € per trip or 2 € for a round-trip
▪ 8 € for a 10-trips ticket (with the KorriGo card)
> Free connection for 2 hours with lines 1,2,3 at Guingamp and line 24 at Paimpol
The Axeo bus+ service is free for the escort of a person with reduced mobility and for children under 4 years old (accompanied).
> EXTENDED SERVICE AREA
Thanks to this on demand mini-bus, everyone can go to the nearest town centre and to the town having a weekly market:
The vehicles are adapted for persons with disabilities
AND ALWAYS FOR PERSONS WITH REDUCED MOBILITY
Regarding the towns of Grâces, Guingamp, Pabu, Ploumagoar, Plouisy and St-Agathon, the Axeo bus+ runs from Monday to Saturday from 9am to 12pm and from 2pm to 5pm. For other towns, please refer to the leaflets above.
The access conditions to the service for people with reduced mobility are as follows:
– Be over 80 years of age
or
– Be the holder of a mobility and inclusion card bearing the mention "disabled"
We picked you up from your home
The vehicle drops you off at the address registered at the time of booking